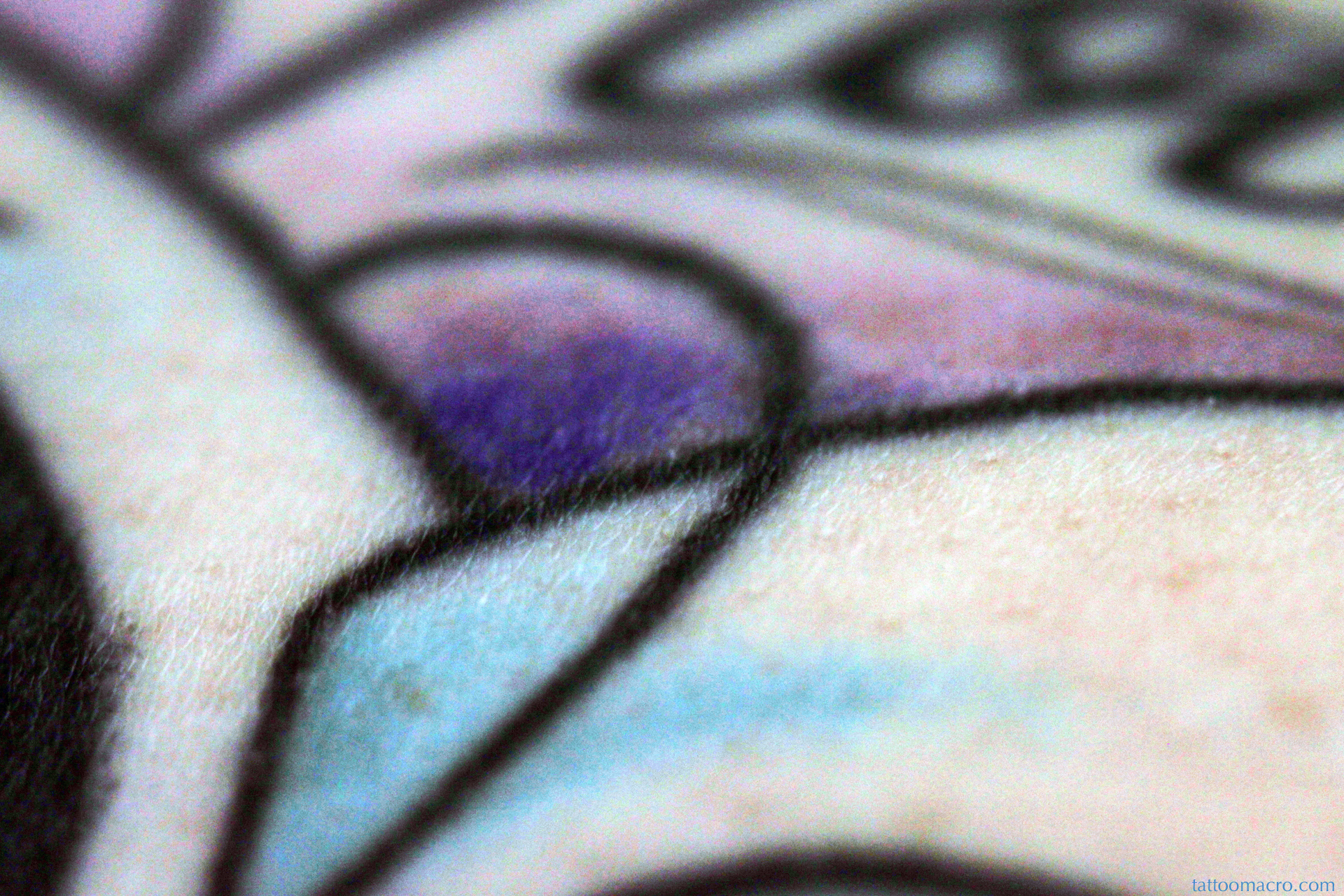 Sometimes you have to get creative. Liz and I did our shoot in the backseat of my car when the timing of our shoot didn't quite work out as I planned. Her thigh tattoo was done by Jesse O'Neil at Sacred Harp Tattoo in Salem, MA. Yeah, so you know, jeans had to be rearranged, and whatever impression that might have made with passers-by, Liz was a phenomenally great sport about poor planning on my part and we made some art. Liz is a tried and true theater person, the iconic subject of her tattoo being Thalia (Comedy) and Melopmene (Tragedy). It should be no surprise that she is open to improvisation and making the best of things both on stage and off, in all aspects of her life. Liz generously provided her own explanation of her tattoo and also provided answers to some questions I had asked.
She begins "Broken, but not Beyond Repair":
My love for theatre coincided with me growing into the bubbly and friendly person you can see today.
My high school drama club members became my best friends and these clubs were the most enjoyable part of discovering my love for the performing arts. Every aspect of performing became an obsession for me. From running lines, learning songs and being a better dancer, all I wanted to do was be on stage. Engrossing myself into another character became an escape from my everything. My reality. My tragedies. Let's be honest–all high schoolers live for that shit. I won't bore you with family hardships. We all have our own bullshit to deal with. Who am I to say that I have it worse than you? Don't bother comparing what you are going through to anyone else because it doesn't fucking matter. What matters is how you make it to the other side. Throughout the lowest emotional swamps of my life my friends and theatre were the only things that made me get out of bed.
After reflecting on what I've been through the best way to describe it is the lyric that frames the drama masks, "Broken but not Beyond Repair". (This is a lyric from my favorite song by a fucking awesome band named Sic Vita) Shit happens, things fall apart. But the real beauty about it all is that you can piece yourself back together. It might be the most difficult task ever to be put in front of you but it's almost the most vital task. At the end of the day we need to be happy with ourselves. I've struggled with that for a long time. What makes me smile at this moment as I type this story to you is that I'm content with how I've developed. I don't think that would've happened if I didn't experience what the theatre life is. I've discovered that I can be happy by just being me and doing what I love. Any other way to live your life isn't fair to yourself.
This tattoo means more than theatre and broken things. Even if you're going through a horrible time in your life, it can get better if you make it happen. It reminds me everyday I've accomplished something that people dream of conquering: Self-acceptance.
Question & Answer:
The tattoo we photographed contains symbols and text in a complex design. What was your experience of bringing your ideas for this tattoo into reality?
I actually had a different idea in mind when I wen to the tattoo shop. I gave him a picture of something I did on the computer and my tattoo artist, Jesse, did his own rendition and I fell in love with his style.
You work at a major art printer, iolabs, here in RI, so I was wondering how the experience has (or hasn't influenced) your personal aesthetics.
I think my personal aesthetics have become more apparent to me. I like talking about what I see and interpret in the different kinds of art that cross my computer screen at work. I'm such a young artist so I don't want my aesthetic to change, but I want it to grow into something that represents me.
If you are considering another tattoo, what would it be like?
Funny enough, my next tattoo idea is already formed in my brain! But my bank account sways me from actually booking the appointment. It'll be a watercolor style cloud (with the all the beautiful colors of the rainbow) with a lyric from another amazing song (by Anberlin) "Live Inspired". I love colors and living inspired is an amazing way to live.
Did getting this tattoo inform how you feel about the direction of your future or the meaning of your past, or both?
This one had a big influence on my past! But it also has a heavy reminder that my future should be how I want it to be.
What advice would you give to someone reading this who was considering getting their first tattoo?
Make sure you want to look at something for the rest of your life, sort of like getting married. But WAY less expensive.