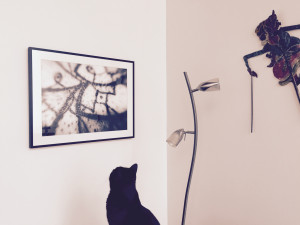 Stanley the cat is fascinated. 'Nuff said.
Macro print on Hahnemuhle Photo Rag
Tattoo Artist Dennis M Del Prete, Providence Tattoo
It's my aim to help people connect in a new way with the artwork that they're wearing for a lifetime. Macro photography provides a great medium to achieve this connection, first, for the person being photographed and, second, for people appreciating it. So, the images shared on this site represent this sort of collaborative experience: Seeing the art within the art is just another way of seeing and responding to a tattoo. I really hope people enjoy this website.
If you've come to this site seeking tattoo nightmares or tales of tattoo triage, this website isn't what you're looking for. Here, you'll find photographs of tattoos on people who love their tattoos. They like them so much that they're interested in exploring them further for art's sake. That may sound funny, but I'm willing to bet that for a lot of people, their tattoos are the best pieces of artwork they own. There's nothing I can do to stop people from coming here with the intent of finding flaws in everything they see. However, this site will not serve as a forum for this sort of stuff. We're in a celebratory mode here.