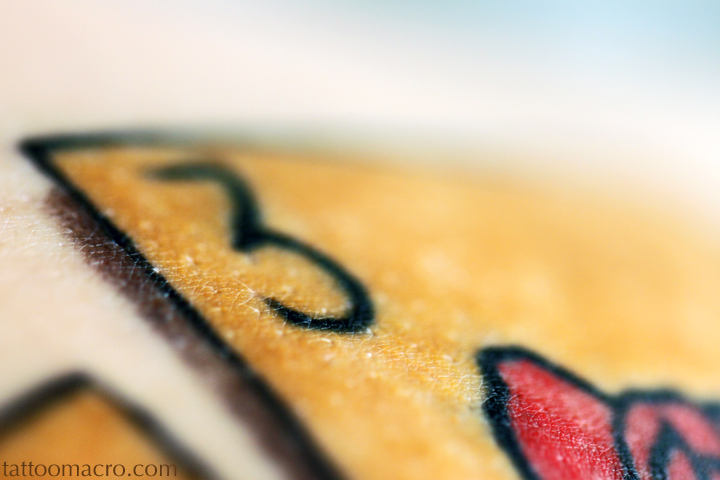 Wendy Cardoza's pair of tattoos were done by Andy Robinson of Art Machine Productions, Fishtown, Philadelphia. As you may notice with the featured photo, one of the mahjong tiles is ready for a game. Wendy has written her own piece about the meaning of her tattoos.
She begins:
What will be with me for the rest of my life?
I forced this consideration on myself. I'm not flighty, I'm not impulsive. I don't want to make a decision and regret it five minutes or ten years down the line. So. What will be with me for the rest of my life?
The women who can't be with me today.
My maternal grandmother, Claire, passed when I was about 9 or 10 years old after backsliding into Alzheimer's and a variety of health issues. She was always a very quiet woman. I never got the chance to truly know her and appreciate her for who she was, instead of just Grammy. Thankfully I have learned that my grandmother studied commercial art, and became a seamstress. I have seen her work, and she was a master. With that, I chose a needle and a spool of thread in one of her favorite colors, teal.
My paternal grandmother, Fran, was a joy in my young life. She and my grandfather visited regularly, and she cooked our family dinners even though she didn't like cooking. (She always believed she was never any good at it; my family begs to differ.) She and younger her sister, my aunt "Sis", were both avid mah jong players. Fran passed when I was 13. I learned after the fact that she wanted to teach me to play mah jong. In my mind, this fact has become a symbol of my grief. I'm still left wanting to learn, and spend more time with her.
We all had Sis, whose real name was Verna, until 2014. The last time I visited her, a month before she passed, I realized what an exquisite link to my ancestry she was. Fran and Verna are very much reflected in who I am today. I inherited Fran's mah jong set, and I knew I wanted to get a flower tile from the set tattooed. After Verna passed, I wanted to get another tile from the set tattooed. Together, Fran is the rose, and Verna is the fern.
All three of these women will always be a part of my life. In my genes, on my body: the angels on my shoulders.
The art is courtesy of Andy Robinson of Art Machine Productions, Fishtown, Philadelphia. (I baked him a bourbon apple pie as thanks.)